Product Description
The Axiom Precision AutoRoute Pro+ Series of CNC routers offers all of the great features of our Pro Series machines, but adds 4th-axis capability. Powerful electro spindle performance, and rotary machining capability in a compact industrial machine. Our Pro+ Series CNC routers have a full 6" Z travel capacity, and a quiet yet powerful 3HP electro-spindle with integrated liquid cooling system. Each Pro+ machine is prewired to accept our optional Rotary Kit. The Axiom Autoroute Pro+ Series CNC routers also offer precision ball screws, prismatic guides, a robust steel frame, and interlocking aluminum table. In addition, the integrated MDF spoil boards promise you the all precision you need, since they can easily be milled flat for a true perpendicular surface to the spindle.
Choose from three footprint options, 24" x 24", 24" x 36" and 24" x 48". There is no need to attach your CNC router to your computer to operate it. Simply transfer your file to the handheld controller via USB storage device. The handheld RichAuto controller is a powerful, lightweight and easy to use controller with nearly a decade of proven results in demanding applications.
Axiom Pro+ Series Includes specs for all Pro+ series models
X axis travel
24" (610mm)
Y axis travel
AXP400 = 24" (610mm) AXP600 = 36" (910mm) AXP800 = 48" (1210mm)
Z axis travel
6" (153mm)
C axis travel
360°
Table work area
AXP400 = 28.4" x 39"
AXP600 = 28.4" x 51"
AXP800 = 28.4" x 63"
Spindle Configuaration
ER20
Included Collets
1/4" & 1/2"
Electro Spindle
2.2KW
Spindle Speed
0-24000 RPM
Rapid feed rate
200 IPM (5 MPM)
Precision Linear Guideway
X/Y/Z
Precision Ball Screw
X/Y/Z
Ball Screw Diameter
16mm
Positional Accuracy
+/- .00393" (0.10mm)
Power requirements
220 V,50~60 Hz, 10A, 1-Phase
Working Table
High rigidity Aluminum Extrusion
Gantry bridge
High rigidity Aluminum Extrusion
Gantry Supports
Aluminum alloy gravity cast
Gantry Clearance
6.5" (165.1mm)
Machine Base
All Welded Steel Frame
Machine Dimensions
AXP400 = 39.17" L x 37.36" W x 30.27" H
AXP600 = 51.18" L x 37.36" W x 30.27" H
AXP800 = 62.99" L x 37.36" W x 30.27" H
Shipping Dimensions
AXP400 = 42" L x 39" W x 33" H
AXP600 = 53" L x 39" W x 33" H
AXP800 = 65" L x 39" W x 33" H
Machine Weight
AXP400 = 320 lbs
AXP600 = 360 lbs
AXP800 = 405 lbs
Tool Touch-Off Device
Included
Onboard Cooling System
Included
Controller
Richauto B18 DSP 4-Axis Controller
CNC motion control system
USB port for easy file transfer.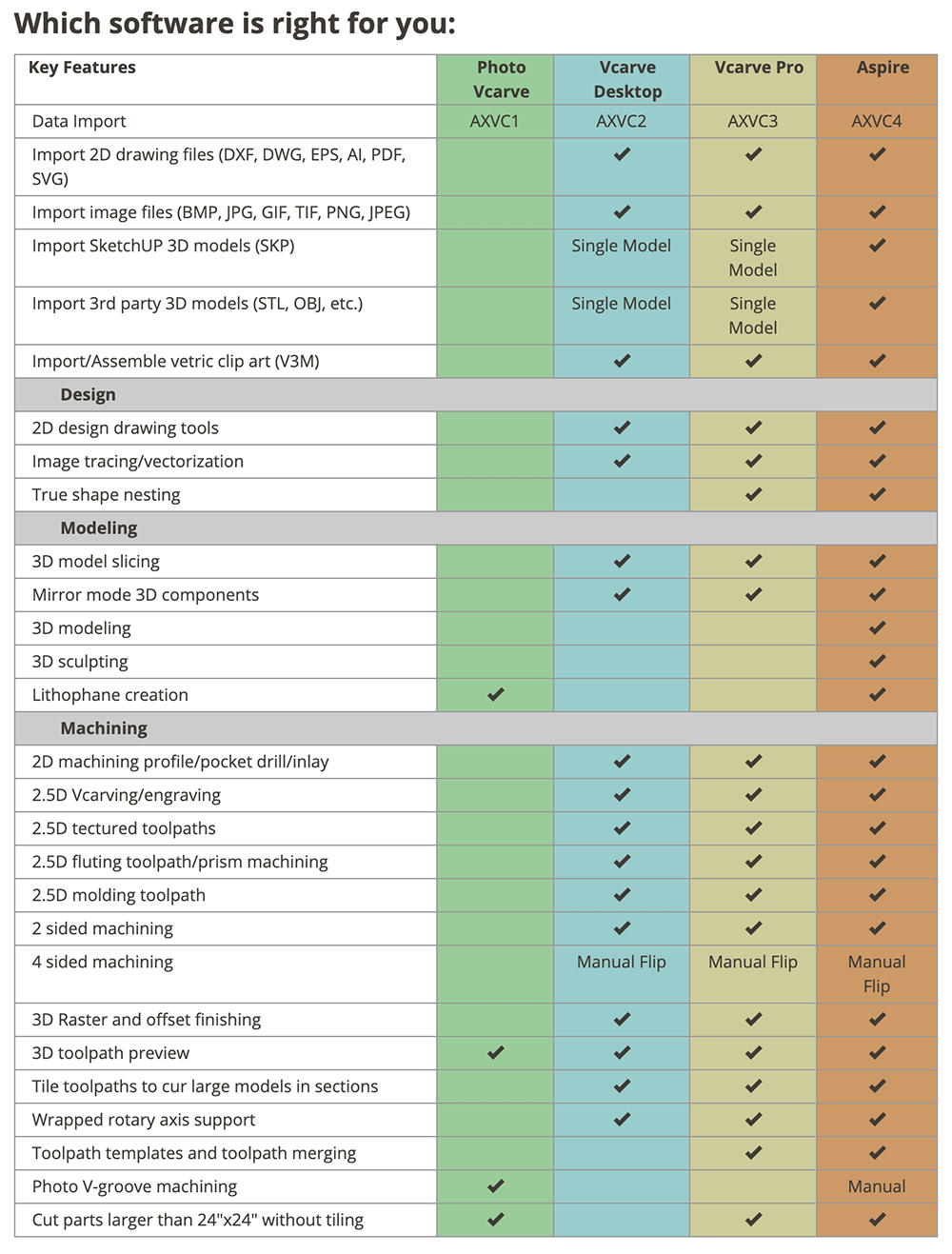 Download Axiom Products Comparison Chart
Important Shipping Info
*Accessories ship free when ordered with a machine.
** If several accessories are ordered together, the highest single shipping fee would cover the entire order.
***Residential and Lifgate service available for all items (excludes ELITE series).
Product Videos
Custom Field
Machines & Acc
Cnc Machines & Accessories
Product Type
Cnc Machines
Stock Item Parent ID
PARAXPRO
Restriction Code
CNC Machinery/Acc Drop Ship
Product Reviews