Product Description
Model MP21-25
Great for making eyes on animals, birds, and human sculptures e.g. bears, owls, humans
Fish, snake, alligator & crocodile scales, wavy patterns
Excellent for texturing designs on woodturnings, bowls, platters, spoons etc.
Burning after texturing will further enhance your work
Depending on the pressure applied, these accessories are designed to naturally leave black circular rings as they burn wood
Adds a phenomenal new dimension to woodturnings and woodcarvings
What's Included
25.40 mm x 54.00 (h) mm
19.00 mm x 54.00 (h) mm
15.90 mm x 54.00 (h) mm
12.70 mm x 54.00 (h) mm
9.5 mm x 54.00(h) mm
9.5 mm x 25.00 (h) mm
7.2 mm x 25.00 (h) mm
4.8 mm x 25.00 (h) mm
Recommended for power tools as follows:
1/8" Shank - Dremel, Foredom or similar small hand piece grinders
1/4" Shank - Die & Straight grinders e.g. Campbell Hausfield, Jet, Makita, DeWalt
Note
Do not use any of these accessories on rotary tool handpieces or air/electric grinders with a chuck.
Use only with collet tightening tools. The collet's gripping design allows our accessories to spin straight at high speeds, without wobbling, which is possible with chucked power units.
Consisting of:
5 - 1/4" Shank from 3/8" to 1"
3 - 1/8" Shank from 3/16" to 3/8"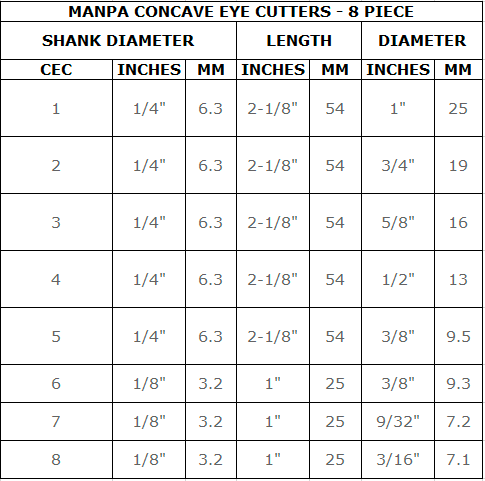 Custom Field
Power Tools & Acc
Grinders & Acc
Compatibility
Various Rotary Tools
Product Reviews