Posted by Klingspor's Woodworking Shop on Sep 9th 2021
Charlie Brown - Small Federal Style Bow Front Table
The small Federal Style bow front table features geometric forms, tapered legs and contrasting inlaid veneers commonly used during this period. The shallow drawer has hand cut dovetails and period knobs. The piece is mahogany and the veneers are figured sapele and mahogany with maple and inlay banding. The inlaid fan and book ends are handmade and sand shaded. The table design is by Frank Vucolo as was featured in "Popular Woodworking Magazine."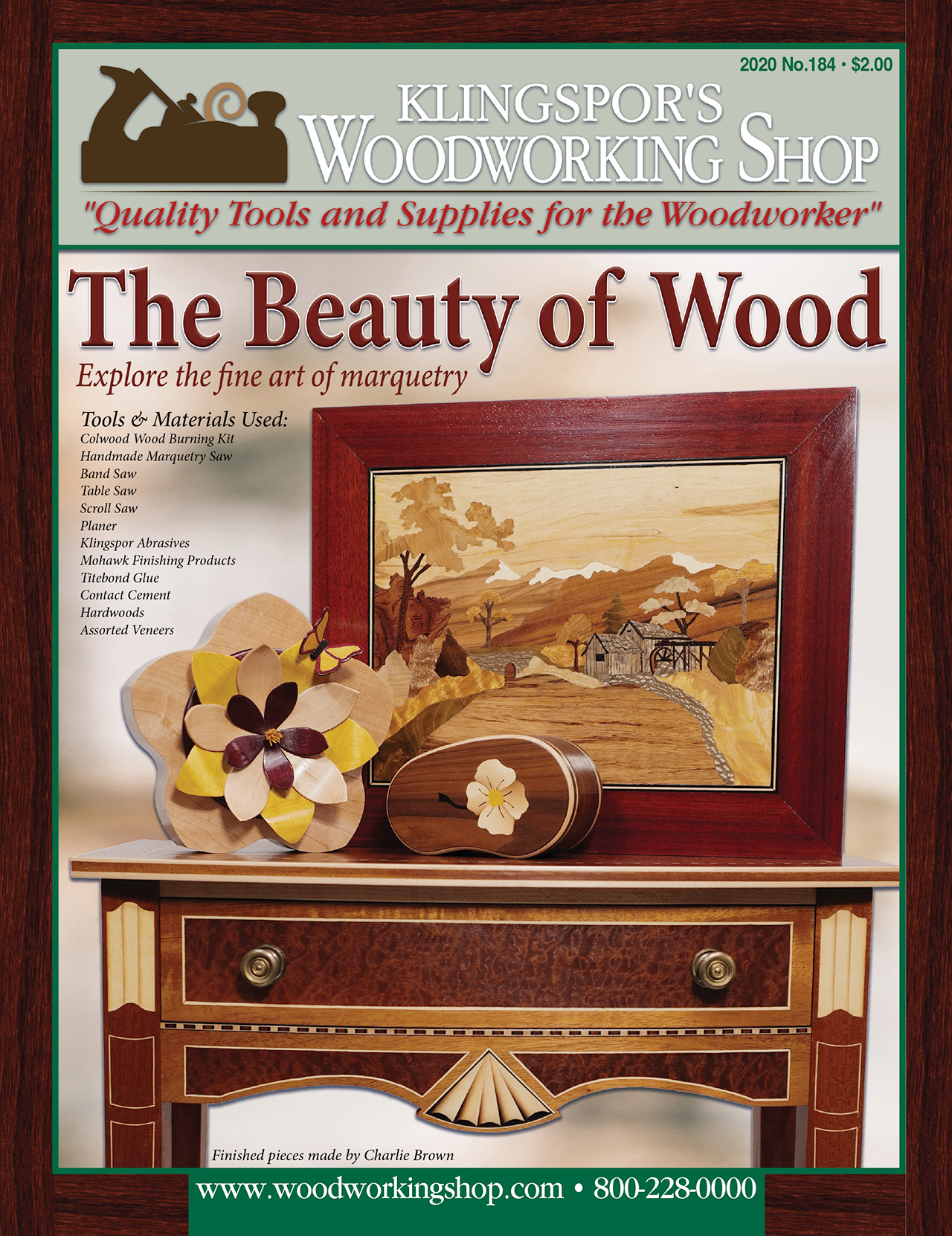 The mountain scene marquetry picture is a piece that features an old mill and is comprised of several natural burl and figured wood veneers. The background is primavera and the paduk veneer frame has contrasting black and white veneer stringing.
The scroll sawn flower box is a functional lidded jewelry box and is made from hard maple, purple heart, yellow heart and holly. The butterfly is ebony with yellow heart inlays in a purple heart field. The pattern was featured in "Woodworkers Journal" and was designed by Carole Rothman.
The kidney shaped free form jewelry box is band sawn hard maple with walnut, maple and yellow heart veneers used to overlay the swivel lid and inlay the flower design. The box was derived from information in an article in Ken Horners "Basic Marquetry and Beyond" and is available at Klingspor's Woodworking Shops.
Tools and Materials Used
Band Saw
Table Saw
Scroll Saw
Planner
Klingspor Abrasives
Mohawk Finishing Products
Titebond Glue
Contact Cement
Hardwoods
Assorted Veneers - Sauers and Herzog
Colwood Wood Burning Kit
Handmade Marquetry Saw
Bio
Charlie Brown relocated to Hickory in 2009 after retiring as a civil engineer with careers at the NCDOT and Department of Defense. He soon became involved with several wood working clubs he discovered while attending the Klingspor's Woodworking Extravaganza in Hickory. A lifelong wood worker, he found the clubs a perfect way to meet other wood workers and learn new skills and techniques. He enjoys making furniture and frequently incorporates inlays, marquetry pictures and geometric shapes whenever possible. He is the current President of the Western Piedmont Woodcrafters Club and the Marquetarians of the Carolinas Club. He is a frequent customer at Klingspor's Woodworking Shops and often demonstrates his skill at the Klingspor's Woodworking Extravaganza Marquetry Booth. He also occasionally teaches an Introduction to Marquetry Class at Klingspor.