Product Description
NOVA PRO-TEK G3 Chuck & Jaws (Insert Version)
PRO-TEK G3 Chuck (replaces 48202) is a 4 Jaw self-centering geared Insert type chuck, suitable for a wide variety of lathes with up to 16" swing. This NEW premium chuck by NOVA includes upgraded features that every turner can appreciate such as nickel-plated to minimize rust and reduce maintenance, stronger and more versatile NEW! NOVA 2" (50mm) PRO-TEK Jaws featuring an improved dovetail design and serrated profile adding maximum holding power for a wide variety of projects, precision laser etched jaw numbering, eight (8) upgraded 6-point star fasteners to minimize strip out, NEW! T-Bar handle for jaw screws in lieu of just a hex wrench for speedier jaw change, intuitive clockwise scroll action for ease of use, FREE! microfiber workshop towel (11.5"x10.5") and new, more rugged packaging allowing convenient storage when not in use PLUS all the original features that make NOVA the #1 choice of professional woodturners everywhere. The NEW! PRO-TEK Series delivers the next generation of inNOVAtion in turning. Its powerful gearing grip delivers tremendous slide holding power offering incredibly solid, vibration free performance each and, every time you turn. The NEW! PRO-TEK series of chucks are compatible with the same accessory range as other NOVA Chucks, and also includes our Safe Lock woodworm screw and chuck key plus a full six (6) year full Replacement Warranty - Best in Market!
Please note, this is an insert type chuck, which requires additional insert adaptor (sold separately) to match your specific fit to lathe spindle.
IMPORTANT NOTICE Safety Advisory! Only use authentic NOVA accessories on your NOVA chuck. Using non genuine NOVA and copies of accessories could lead to operation and safety issues and will void our market leading warranty. NOVA accessories are designed for use only on NOVA Chucks. Do not use on any other chuck.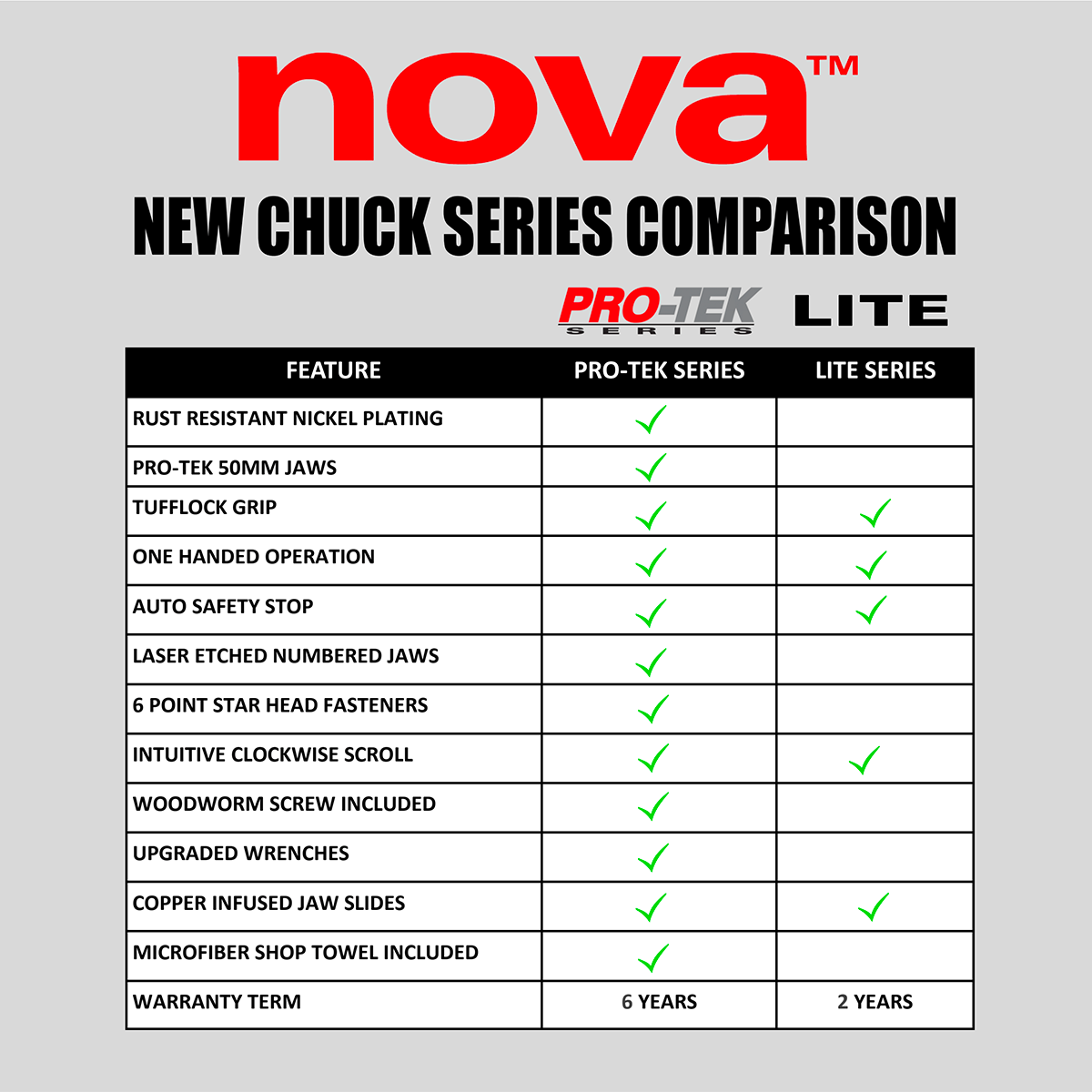 Premium nickel plating, minimizes rust and maintenance and is ideal for turning green wood
Stronger and more versatile 50mm/2" PRO-TEK Jaws with an improved dovetail AND serrated profile for maximum control. The unique woodworking dovetail profile pulls the project into the chuck and holds round and square blanks firmly.
Precision laser etched jaw numbering allowing ease of jaw and slide alignment, positioning and change out
Upgraded 6 point star fasteners exerting more torque with ease, offering better holding power and minimizing strip out for longer life
Jaw fastening wrench upgraded to T-bar handle (from hex wrench) for reduced stripping; and enabling quicker tightening of screws which are easier on hands
6-Year Replacement * Restrictions Apply
Custom Field
Machines & Acc
Lathe Tools & Acc
Main Category
Turning Accessories
Product Type
Chucks & Faceplates
Type
Chucks & Accessories
Product Reviews